You Heard It Here: Happiness Is…
Today is a no-brainer!!
Happiness is… the release day of Living Dangerously!!!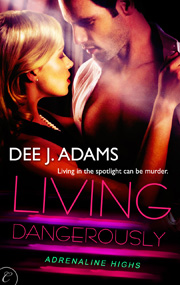 I'm so happy this book is finally out! It's been a long time coming, that's for sure! I'm giving away a copy of Danger Zone to a lucky commenter. (It's the book where you first meet Julie Fraser, the heroine of Living Dangerously. And of course you get another glimpse of P.I. Troy Mills who first appeared in Dangerous Race.)  Dangerous Race is currently free, so if you haven't picked it up, you can do that too! It's at Carina Press and Amazon.
Just tell me the name of your favorite auto-buy author or if you had a book you had to pre-order or snap up on release day. (Obviously, it doesn't have to be one of mine. LOL.)
As always, I want to just give a shout out to all my readers to say thank you for your presence on my website, Facebook and Twitter pages! You guys are awesome and I can't thank you enough!
AND… I have a big surprise for you in a few days… Stay tuned!!