You Heard It Here: Communication?
Recently (in dealing with my daughter's driving instructor), I've come to realize that some people just aren't great communicators. They might mean well, but they can't see or don't notice when their words fall on deaf ears.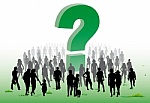 I tend to be an observer. I watch for people's body language or the way they speak. I look for clues as to what might be happening in their head while they talk and move. I'll admit, I'm astounded when other people can't read a situation, especially one that's as clear as the nose on their face. (Or hair on the head or any other analogy I can come up with!)
Granted, I have to take into account that everyone is different as are people's experiences, but still, how clueless are some people? As I've discovered… Very.
I mean, do you really need to be a parent to realize if a teenager is listening to you or do you need x-ray vision to see if someone is having an anxiety attack in front of your eyes?
Maybe it's because I'm an observer and I think everyone is. Most of the time (and I say most because everyone has a bad day–me included), I can tell when people are tuned in or tuned out (and I actually talk about that in my pitch workshop). I get a feel for the mood and either try to lighten it up accordingly or NOT lighten it up accordingly. (If that makes sense.) So sometimes I just want to shkaba (pronounced shkaba!) someone on the side of the head and say, "Yo, do you see what's happening here?"
Okay, I think this ends my mini-rant. So what about you? Can you read a room or a person? Are you good at communicating or do you want to punch people that aren't good at it? I'm curious to know.