You Heard It Here: Happiness Is…
Happiness is fourfold this month! I'm so grateful for all the good things that have happened since April 1st! Beginning with finding out that Living Dangerously is the 2014 Gayle Wilson Award of Excellence winner in the Single Title Romantic Suspense category! I can't even begin to tell you how excited I was to get that news!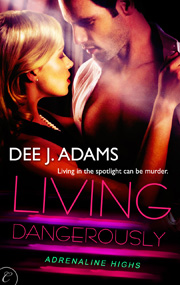 The other happiness is gearing up for my weekend in Milwaukee at Barbara Vey's Reader Appreciation Luncheon! I'm so looking forward to meeting up with some author pals, but most excited to meet the readers attending the event! It's going to be awesome!
Another happiness if finishing the first round of edits in the next installment of the Adrenaline Highs series! Imminent Danger will be here before you know it!
The next happiness is that the contest to win a digital copy of Danger Zone – or 5 other romantic suspense ebooks by some very awesome authors – is still happening so you still have a chance to win! The box to enter is below!
So tell me… What's YOUR happiness this month?