You Heard It Here: Rafflecopter Contest!
I've noticed that I don't too many contests…or talk about other authors that I like, so today I thought I'd do both those things!
Below are snippets from 6 authors (5 if you don't count mine!) whose books you could win if you enter the rafflecopter. Included in the bunch is the awesome RITA nominated Toni Anderson!
If you like my FB page or any of the authors listed below and spread the word then I'll love you forever and ever. Oh…and you might win a free e-book! As promised… Here are some snippets of the books you could win (including one of my favorites exchanges from Danger Zone)! And I can't really talk about the book without posting the award winning cover (and maybe my all time favorite cover to date)!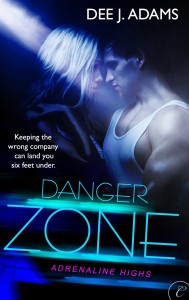 Danger Zone by Dee J Adams
"How about a nice romantic dinner tonight? Just the two of us. Maybe some candlelight. Soft music."
Her lips curved into a smile, but she didn't take her eyes off the road. "Trying to go out with a bang, huh?"
"We'll do that after dinner."
Betrayed By Trust by Ana Barrons
If only his cellphone had been on that night, she wouldn't have taken care of Mike and he wouldn't have found her in his bed in his sweats and that tiny tank top, snuggled up with his little brother. And he wouldn't have made the fatal mistake of touching her, or the doubly fatal mistake of kissing her. He had tightened the noose around his neck by making love to her last night. And Catherine had very coolly kicked the stool out from under him.
Protective Custody by Wynter Daniels
The electronic chime from the reception area dinged, reminding her she hadn't locked the front door.
Now the killer was after her. All the air sucked out of her lungs.
Footsteps advanced slowly, louder and louder. Get out!
Only Fear by Anne Marie Becker
"Why did you do this?" The man was insane.
Again, Owen's voice flipped from thrilled to threatening in the space of a stuttering heartbeat. "There is only fear. All other emotions are born of fear. You have to understand that before we move on to your next lesson." 
Point of No Return by Rita Henuber
Major Honey Thornton and her team were hustled to DC for intel sessions on the hostage extraction and some overdue R&R. She'd had many assignments but frequently returned to Washington for temporary duties, her favorite being in the Pentagon. Its charged air, its smell of power welcomed and renewed her. On hot and humid DC days, the faint smell of aviation fuel and smoke validated her work with the Corps.
Edge of Survival by Toni Anderson
Everything felt so violently alive—his senses sharpened, nerve endings stripped, survival skills on fire. His body was primed by sheer muscle memory and cognitive reflex. Even though worry for the Doc gripped his chest, he'd forgotten how good this felt. He'd forgotten how alive a body could be.
Now enter the Not Your Usual Suspects contest to win a romantic suspense e-book! Good luck!!
a Rafflecopter giveaway