You Heard It Here: What's Your Game?
Do you have a game? Maybe you don't. But maybe you should find one.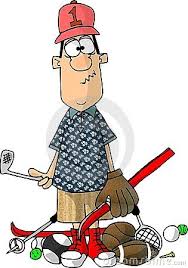 I grew up in a tennis family. I played for a little while, but turned out I liked the running part of my tennis warm-up better than the actual tennis so I began running instead.
In the old days (before I started writing), when I had time to watch television and sports, I was big on football. I've always was, and forever will be, a Dallas Cowboy's fan. (I can't help it. I was born that way… Texas and all…) When I married my husband, I started watching more basketball since that was his sport of choice (although not his only sport). Then when our daughter started playing soccer we got into watching more soccer. Lately, because my critique partner writes hockey romance (this is a shout out to you, Kate Willoughby!), I'm now watching the LA Kings when I can. As I write this, my husband and daughter are at the Western Conference Semifinal of Major League Soccer. The LA Galaxy is kicking ass and taking names. They are so fun to watch, particularly Landon Donovan with his hat trick!
I'm listening to the crowd chant, "One more year! One more year!" because Donovan announced his intention to retire after this season. I'm just grinning for the guy. What a way to leave the game.
I'm convinced that finding a team to call your own can be good for your health. There's nothing like getting your heart pumping while you're rooting for your team. And let's be honest, watching an athlete at work is not hard on the eyes. (Although I have it on good authority that you might not want to date an athlete, enjoying them while they work is highly entertaining.)
What about you? Were you raised into a sport or did you play a sport? Or maybe you have a favorite sport to watch. What gets your heart pumping? Let me know! I'd love to hear it!