You Heard It Here: In The Beginning
I just realized a fairly cool event that I never shared. You've heard a few stories of the time I worked as a Page at KTTV when I first got out of school. Working at KTTV definitely got my foot in the door of show business. It bought me into contact with actors, comedians, producers, writers, etc…
I was fortunate to work on The Late Show when Joan Rivers hosted and when she left, Arsenio Hall took over. I loved Arsenio for many reasons. First of all, he was a regular guy. (I hope he still is.) He always had a smile and positive energy. He came on set and had this aura of happiness around him that was absolutely contagious.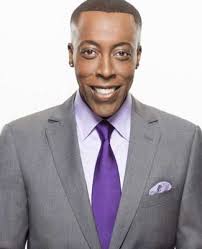 He liked to mix things up a bit and we never knew what he might do during a taping of the show. Let me preface this next part by telling you that I had done some "extra" work on two episodes of Gimme A Break, the Nell Carter show that taped on the same lot. I was trying to get into the Screen Actors Guild (SAG) and I needed three days of work to be eligible for the union. All I needed was one more on camera appearance and I could pay the initiation fee and be in. (The actors unions were tough to break into. You can't work without being in the union, but you have to work to get into the union. A little catch 22, you see. I'm not sure how different it is today with one union, but I digress…)
Back to the story. Arsenio went to a commercial break and strode toward the audience. I was standing off to the side making sure people were staying in their seats or not talking during the show or pointing them in the direction of the bathroom. (I know… you're thinking, what a job…) He motioned me and one other page forward so we hurried to see what he needed.
He smiled broadly and we smiled back. He clapped his hands together and said, "Hey, you two want to help me in between the commercial break?"
Hell yeah! my Texas brain shouted. But I somehow managed to keep my cool. "Sure," I said. "What do you need?"
"We'll just wing it and tease the next spot," he said, moving to stand between us and face the camera that had turned around to shoot us.
"You mean we're going to be on TV?" I think my voice may have risen a bit at that question.
"Yeah," he said, smile in place.
The stage manager started to count down and by this point Arsenio had his arm around each of us.
"Arsenio, this is my third camera appearance. They're going to have to pay me. It's going to get me into SAG. I don't want you to get into trouble." As soon as I said the words I wondered if I just blew it and he'd shove me away, but my conscience never quit.
He smiled even broader. "That's great! This is perfect then."
And boom, we were on camera. The little red light flared on and he started talking, teasing the next guest on his show and talking to us. I have no idea what I said, but I know I spoke, agreeing with whatever came out of Arsenio's mouth with a dopey grin on my face. All I could think about was that I'd just reached a huge milestone in my life and I owed it to Arsenio Hall. I will always love that man.
So that's this month's story. What about you? Did someone help you reach a big milestone in your life? I'd love to hear about it.