You Heard It Here: Sometimes Life is Good.
First of all, today is going to be an awesome day, because tonight I get to participate in Book'd in Burbank. It's a great event where authors get to read from their books for a few minutes and then mingle with the audience afterward. Liz Donatelli at Publicity and Promotions is the presenting sponsor and she's awesome!
The other thing that makes me say life is good is that  I had one of those uber-epic nights last week and wanted to share. Many of you know that one of my all time favorite authors and huge inspiration for me is Suzanne Brockmann. I have all of her books (most of them signed), on what I call my "Suz Shelf" in my office. It looks something like this: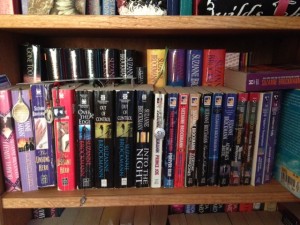 Anyway, she was visiting her son in my city and we ended up having dinner together. Really and truly, there is nothing better than having a meal or spending time with someone who is not only talented, but has a great sense of humor and is just the all around real deal. That is Suz. I could write paragraphs about how she's inspired me and how much I love all her books and the wonderful characters she creates. Sometimes I think those people are real…that's how good she is. If you haven't read a book by Suzanne Brockmann, I highly suggest you do. You can start with the first book in her Troubleshooter series called The Unsung Hero, but you don't have to. Honestly, any book by her is worth it times 10.
So, yes, when you get to spend time with someone who inspires you and makes you want to do what you do as good as you possibly can, life is actually better than good. It's great.
What about you? Get to spend time with someone who has inspired you? Tell me about it!