You Heard It Here: Happiness Is
Happiness is a great event!!
This month's "happiness is" is kind of a follow up from my last post. I thought since I told you about my event ten days ago, you might want to get a report. Book'd in Burbank was a terrific success with standing room only! The book readings were wonderful and all the authors were so nice! Liz D puts on a great night if you're thinking about going to one of these.
For me, the absolute highlight of the evening was knowing I had such a supportive group in the audience. Within that group was one of my all time favorite authors, Suzanne Brockmann. I've been reading her books since I discovered her in 2001. I'm pretty sure I showed you all my "Suz shelf" very recently so you saw my love of this woman's writing, but I'm thrilled to unveil this pic of the two of us after the show!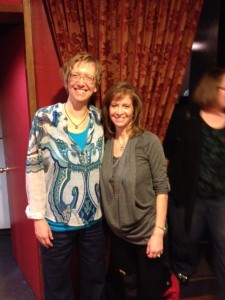 I guess I could also add that happiness is a pic with my favorite author!!
So what's your happiness this month?