You Heard It Here: Hollywood Close To The Heart
I usually tell a story from way back when I first started in show biz, but this month's Hollywood story is as fresh as it gets. This past week, my husband directed an episode of my current show, The Thundermans. He'd met the network executives months ago and knew one of them from our days at CBS, so he had that bridge covered. He knew two of the three executive producers from his last show (Disney's Pair of Kings). Since all the stars aligned and he wasn't directing an episode somewhere else, he got to direct my show.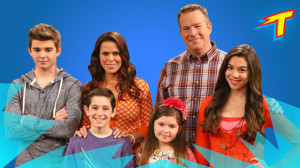 (Here's a shot of the awesome cast of The Thundermans. From left to right- clockwise- Jack Griffo, Rosa Blssi, Chris Tallman, Kira Kosarin, Addison Riecke and Diego Velazquez.)
How did it go, you ask? Awesome. Actually, is there a better than awesome? If so, it was that. I had told everyone in listening distance that he was wonderful, but after weeks of hearing this, I figured I needed to shut up and let my husband just prove himself. Which he did in spades! The cast and crew loved him, the producers loved him and in general he hit a home run. (Do I sound proud? I hope so, because I am.)
Before shooting the audience show, we have a speed through where the actors run through all the lines in scene/show order. My husband joined us and gave the most wonderful speech thanking the cast for welcoming him to the set and working so hard all week. Granted, I'm a weenie, but I got choked up. After he left the room, I looked around and said, "You guys! Was that the sweetest thing in the world? Don't you love my guy?" Not to my surprise, the overwhelming response ran along the lines of this. "We LOVE him!!" (Let me also mention that I love this cast! They are an amazing talented group of people!)
Made me happy. So that's my Hollywood story that's so close to my heart this month. Not as exciting as some of my others, but very emotionally uplifting… (if you're me. LOL.)
What about you? Ever been in a situation where someone you loved made a big impression on the people you work and/or interact with on a regular basis? How did it make you feel?