You Heard It Here: Happiness Is…
The good with the bad. Yep, this month happiness is the good stuff that counter-acts the bad. It's been a crazy few weeks with some devastating things and some amazing things. Life works in mysterious ways.
I remember when I shot my first big national commercial. My mom was in the hospital, but I was able to tell her all about it. About a week later, she died and the same day I got the check for that commercial. It covered my airfare home for the funeral and also happened to be the biggest check I'd ever received for acting work. I couldn't help but feel that she was looking down on me. Then, on the day of her funeral, I got a call telling me that the commercial was going to be a series and I would be shooting more in the future. Again, I couldn't help but feel my mom had something to do with it.
Well, it's over 17 years later and my dad is gone. It's only been 2 weeks, but something awesome has happened in my writing career, and again, I have to look at the timing and think my dad and my mom both are watching over me, sending me the good stuff to counter the bad.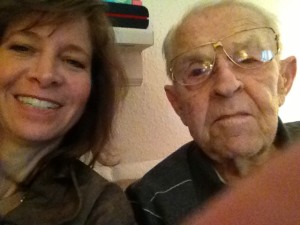 (Here's a pic of my dad and me -I'm not good at selfies- but it's one of the last pics I have of us together.)
I'm happy to report that I've found literary representation for my young adult novel! It's taken a long time to find an agent who loves this book as much as I do so I'm thrilled! I promise to shout any news from the rooftops as soon as I can. But in the meantime, happiness is moving forward.
How about you? Any good with the bad stories you can share?