As some of you know, my dad passed away last week. I pretty much disappeared from all social media for a handful of days while I flew back to Texas and his funeral. Here's a shot of my dad, Bob, and my daughter about 15 years ago. It's one of my all time favorites.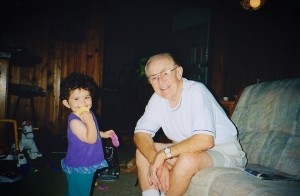 My dad was a traveling salesman so he was on the road much of the time as I was growing up. After a few months on the road, he'd come home for a couple of weeks to recharge before going out again. I remember how we used to gather around the telephone waiting for his call. My brother, sister and I used to get about a minute on the phone him before Mom took the receiver and passed it on to the next person.
With both my parents gone, I can't help but feel as if someone took a pair of scissors and severed my connection to my hometown. Bob was an identical twin who fought in WWII. His 89 year old brother still lives in El Paso so I know I'll be flying to Texas to visit and it's that thread of my uncle (and many cousins) that still keeps me tethered to Texas and I'm glad.
Dad was quiet, but he had a fun sense of humor, almost as if he was just bidding his time until he could throw in a zinger. I think he enjoyed his jokes as much as anyone else because he'd laugh as loud as anyone after a punch line. He had a very distinct cackle that always made me laugh, so even if I didn't think his jokes were funny, his laugh was contagious. One of my favorite Dad stories/jokes went something like this:
He was at a restaurant with friends and asked, "What do you get when you cross an elephant and a rhino?"
The group at the table said, "What?"
He said, "Damn, if I know!"
To which I'm sure he laughed his signature cackle. Now if you think about that joke and what the punch line should be, you'll know he missed it by THAT much. LOL. But I like his version better.
Bob, was a loving husband, father and brother. Everyone who knew him loved him and will miss him. I just keep telling myself that he's found my mom after a seventeen year separation and they are together again.
Dad was big on finding coins. Everywhere. All the time. He used to walk with his head down and I doubt a week went by without him finding change on the ground. Well… walking in the airport toward my flight back to California, I looked down and found a shiny penny and I knew my dad was watching over me. I'll admit that penny had me bursting into tears because I felt it was a sign from him that he's okay, back to his normal self before Alzheimer's stole his memories.
As much as I'll miss him, I'm glad he's not suffering anymore and I'm keeping his memories safe in my heart.
Love you, Dad. Give Mom a kiss and hug for me.