You Heard It Here: Happiness Is…
Writing. I don't talk about the writing part of my life all that often, but I thought this month deserved a shout since I'm gearing up to have a couple of releases and I need them mostly ready before I start my day job back on the set.
Today's happiness is a writing date with authors Kate Willoughby and Robin Bielman. Kate is my long time critique partner and Robin is an all around awesome lady. Actually both of them are awesome ladies and if you haven't read any of their books, you should pick up a couple. They both happen to have releases on April 14, so keep a lookout for those ladies! You'll love their books. Here's a shot of 2 of the 3 of us on our writing date!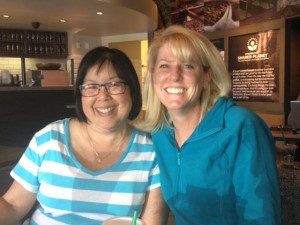 Apparently Kim and Robin called each other and coordinated their outfits. I was unaware of the turquoise memo, thus I wore the wrong color and couldn't be photographed. LOL. Totally kidding. <G>  And I'm also happy because by the end of the day I managed to write just over 2,600 words. Not a bad writing day!
How about you? Any special people in your life who bring you happiness when you get to spend designated time with them?
Let me know!