You Heard It Here: Happiness Is…
Happiness is… enjoying the moment. Since this is the last post of 2013, I thought I'd do a little reflection. Juggling writing and show business has been a bit of a struggle, but I've learned something in the process. I've learned to enjoy what I'm doing when I'm doing it. It's really a catch 22 for me because when I'm on set, I want to be writing and sometimes when I'm writing, I want to be on set. Only recently have I learned to enjoy  being in the moment I'm in and enjoy it. I know…sounds awfully Zen, doesn't it? But it's true and I think it applies to almost anything. If you don't enjoy the  now, then when will you ever be happy?
Today, December 20, we shoot our last episode of the first season of The Thundermans. It's the first time in twenty-six years when a season has ended at the holidays so it's kind of a double whammy. The good news is we're only saying goodbye for a few months since we just got our second season pick up last night!  It's awesome knowing we'll have work to come back to in the New year.
Here's what I'll be saying goodbye to at the end of the day…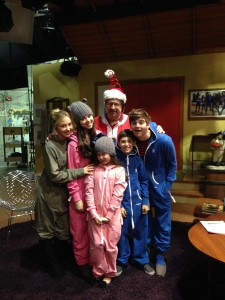 These are the kids in our cast plus our First AD. Wednesday is Onesie day and they all got into the spirit! There's nothing better than working with fun people. <G>
Here's the Paramount lot at night during the holidays…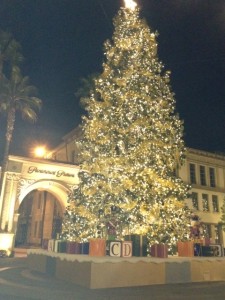 The path leading to the tree is full of trees lit with white lights. It's beautiful! (This picture doesn't really do it justice.)
So as happy as I am to get back to my writing and all the characters screaming for their stories (in my head!), I'm going to miss my job on set and working with such fun, funny and amazing people.
I hope you all have a wonderful Holiday season no matter what you celebrate! And the healthiest and happiest of New Years as well!
So what about you? Are you good at living in the moment or do you think more about the past or too much about the future? Finding the balance isn't easy…it's a learning process, I think. Let me know!