You Heard It Here: Release Me!
I don't know how it got to be September 20, but here we are… my birthday month! I have a ton to be grateful for too.
Four years ago this month, my first book was released with Carina Press. Dangerous Race is the first book in the Adrenaline Highs and next month the last book, Always Dangerous will be released October 6th. (Seven books total in the series with one of those being a novella.)
But, did you know I have TWO releases coming out September 22? Well, they aren't really mine, except now they kind of are. Confused?
Let me explain. I narrated the first two books in Kate Willoughby's In The Zone series! On the Surface and Across the Line will be available at Audible on September 22nd! I'm so happy to have narrated these books for my good pal, Kate! Honestly, these books are almost as close to my heart as my own. Here they are! And I may as well add that I love Kate's covers as much as my own, too!
It was so much fun to narrate these hockey hunks! Tim Hollander and Calder Griffin can be my book boyfriends any day of the week!
And of course, I can't leave without flashing another shot of Always Dangerous. I love this last cover in the series.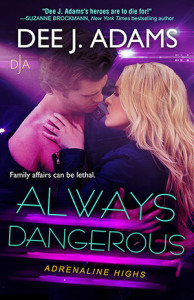 And that's my September gratitude! What about you? What are you thankful for?