You Heard It Here: Hollywood Movers and Shakers!
Okay… the title might be a little misleading in that I'm not talking about people. I'm talking about actually moving and shaking.
This month's Hollywood story goes hand in hand with the Just Romantic Suspense blog post that's up today. You can find that blog HERE. (Did I mention there's a giveaway there… because there is!)
Before I continue, I just want to ask everyone to send good thoughts and prayers to the people in Nepal. They experienced the worst of the worst. So many lives lost by a killer than can't be stopped. My heart goes out to everyone affected by the devastation.
Without further delay, here's what happened on set:
This was probably the second biggest earthquake I'd been in at the time. I was working on Roseanne (yes, another Roseanne story…) when it hit. Keep in mind that I had learned early on to move to a doorway because the frame is stronger and can protect you from falling walls. On that particular day I happened to be standing behind a long row of tables, probably two or three six-footers with the audience bleachers directly behind me. There were about a dozen of us on stage at the time when the rumble started. The thing about earthquakes is most of the time you feel them first…although sometimes you hear them first. It depends on the intensity and the things around you that shake.
As you know, television shows need to be lit, which means we have giant lights overhead. The fact that these lights are securely attached to the overhead grid really doesn't mean much when they're slamming together during an earthquake. I mean we'd like to think they won't drop, but the noise is so loud that you just don't trust them to stay up there.
I know we were told to exit to the outer walls of the stage during an earthquake. But when the noise is so loud and the shaking is bad enough, your first thought is, "Where is the closest, safest place?"
So, you know where I'm standing… behind those tables. We know where I'm supposed to go if an earthquake happens. But when you're panicking, sometimes you don't do what you're supposed to do.
There I am, minding my own business on stage 2, when the rumble starts. Usually, most people stand still for a second waiting to see how bad it will get before they run and duck for cover and that day was no different.
But it only took seconds before everything started shaking big time. I knew I had to run, but I was a little trapped between the table and the bleachers. I think I actually dove over the table, but I don't really remember how I got to the other side. The first thing I did was to run into the set and stand under the archway between the kitchen and the den sets. Again, it only took seconds to realize that I was under those massive lights that were shaking and banging and slamming like crazy and that the set was not a house and not going to protect me from anything. Then I was off and running again, this time for the back exit. I think by the time I actually reached the door the earthquake had stopped. I remember going outside and seeing most of the cast and crew not only of our show, but others from neighboring sets. Of course, everyone has to share their experience and it takes some time for the adrenaline to power down so you can go back to life as usual. It took some time before we went back to work. The Powers That Be wanted to make sure there was no damage and we were safe to return. (We were and we did.)
Everyone laughed at me running into the set. Including me. It was simply my first instinct taking over. Get under a door frame! (If you ever watch a rerun of Roseanne and see that archway between the kitchen and den, you can just imagine me under there with wide eyes that go even wider when I realize I shouldn't be there!) That earthquake ended up measuring 5.5 on the Richter scale. That's considered moderate. But the intensity of a quake also depends on how deep it is. The deeper it is, the less damage that may occur (again, depending on size and which direction the earth is shaking.) This most recent earthquake in Nepal wasn't very deep which probably contributed to the destruction.
The pic below is similar to the idea I had in mind when writing A Little Danger.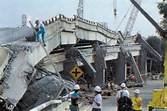 By the way, If you read the blog at Just Romantic Suspense, you should know that the earthquake stories shared there are actual real life accounts. (I may have borrowed them from friends and family members.)
How about you? Do you have an earthquake story to share?