You Heard It Here: Hollywood Babes
Don't let the title fool you! I'm not talking about cute guys. (Not yet, at least…)
Nope, this month's Hollywood story is about a little girl I've mentioned before. Maya Le Clark plays Chloe on The Thundermans and she is unlike any four-year old I've ever met. She remembers her lines 99% of the time. She gets along with the whole cast and she doesn't laugh when she says a punchline. Let me tell you… that is rare. ONE of those things would be really good, but doing all three at the tender age of four is not easily accomplished.
I have to come clean though. When Maya first started, she avoided me like the plague. Seriously, she wouldn't look at me, wouldn't acknowledge my existence. Not being one to pussy foot around, I went to my bosses and told them flat out, "She hates my guts. But I plan to work my way in slowly." Haha. I asked the cast to help me out by being extra friendly (to me) when Maya was around. I figured if she saw that the cast liked me then she'd warm up. I didn't press her, I didn't crowd her. I just gave her space to get acclimated. It's a big deal to become a cast member of a show, especially a show you're a fan of! It's tough for anyone, but imagine being a baby! She has to deal with so many new people in her life. Not just the cast members, but all the different crew members in all the departments. Wardrobe, hair, makeup, the producers and assistant directors and the list goes on… including me.
I will tell you an industry secret when it comes to kids. Good parents. I am lucky enough to have the best show biz moms in the business on my show. They all get along and their kids get along. It is rare. It is golden. They don't coddle their kids and spoil them (with anything but love). Wait, let me rephrase. The kids are spoiled, but in the best way possible. These kids understand they've got it good. They also work tremendously hard to not only get their schoolwork done, but to learn their scripts and be ready when it's time to rehearse or perform the current episode. But I digress… Back to Maya.
It must have taken a solid six weeks for her to warm up to me. A couple of weeks ago, we hit a milestone. For a few minutes, I was her favorite person. Here's a picture of us on set. Maya's holding a hot water bottle, which she named Sophie. Maya decided Sophie was her baby and carried her as such. (In full disclosure, the hot water bottle is mine. It gets SOOOO cold on set that sometimes I need a little more than my sweater and jacket and I pull out the old hot water bottle -thank you prop department!- and I become every cold person's favorite lady.)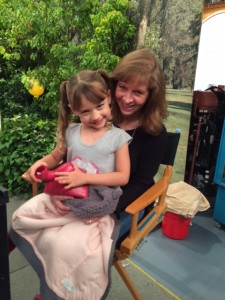 There is simply nothing more adorable than a happy four-year old in a good mood. What you can't see is all my bosses sitting across from us watching and listening as Maya listed all her favorite people. Being at the top of the list (thanks to Sophie) made me the happiest person in that sound stage, but knowing my bosses finally heard from the horse's mouth that we were now buddies (even though they already knew) was as good as a lottery win! I mean look at that little girl's face! Priceless!
Maya had a pretty big part in this episode. We might've had a few rough moments, which is to be expected, but in general she handled her duties like a champ. I've said it before, but it bears repeating… If this little girl wants to continue working in this town, she will. The world is at her feet.
So that's a little behind the scenes and the last Hollywood story of 2015. Where did this year go? Can anyone tell me? It's crazy how fast time is flying by.
How about you? Any cute four-old stories of your own to share?