You Heard It Here: Happiness Is… Narrating
This month's happiness is very new and hot off the presses! I still can't share all the details, but I can tell you that I will be back in the recording studio narrating not just one, but two new books! And before you ask which two of my books I'll be narrating, I'll say none of them! For the first time, I'll be narrating someone else's books! Here's a shot of the last studio where I narrated Living Dangerously.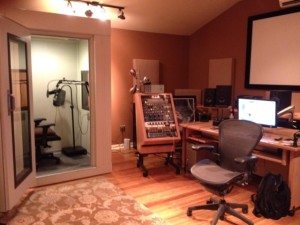 I loved this space. It had a very relaxed, almost Zen, quality to it. I probably won't be in the exact studio, but it will most likely be something similar.
Now… as far as the books I'm narrating… You guys will love them! The only hint I'm going to give you is that I know the author. I know… not much to go on since I know dozens of authors, but I don't think I'm allowed to spill the beans until the audio versions are released. Feel free to guess away, but I won't confirm or deny anything. I'm pretty sure they'll both be released this summer so you won't have too long to wait, and I will definitely shout it out – as will the author – when they are out!
So, that's my happiness! What's yours?