You Heard It Here: Happiness Is… Double Duty
Today's happiness is working double duty. Sometimes my blog dates coincide and I'm not only here, but I'm also blogging at Not Your Usual Suspects. Considering I only blog (here) 3 times a month, it's kind of fun when my days meld.
So, because it's one of those double duty days, I'm going to do something I did a while back and give you both sides of a coin.
The topic stems from my daughter's trip to Boston where it's bitter cold and snowing while I'm in Los Angeles, sweating it out in almost eighty degree weather. The question is:
What season is best for love? (Granted, we have four of them to choose from, but I'm going to pick one here and one for NYUS and you can choose to agree or disagree.)
Since I love the warm weather of California, I'm going to answer the question with summer. Summertime means beach weather and (potentially) lots of skin, which we like to see in our heroes! Who can resist a six pack ab and tan skin over hard muscles? Summer nights mean long walks on the beach holding hands and/or sipping wine at a beach side restaurant. Or it could be a long walk in the park with the one you love while the sun sets. How about skinny dipping in a warm pool and canoodling with the one you love under the stars? Just seems like romance is easier in the summertime when you're wearing less clothes. Haha.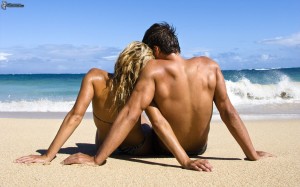 (Doesn't that look perfect?)
So tell me if you agree or disagree or what season you think is best for love! And don't forget to drop by Not Your Usual Suspects and check out a different viewpoint!