You Heard It Here: Happiness Is… A New Book
I'll admit that I was struggling to find my happiness this month. It started off a little rocky – because of the death of a friend – and will end a little rocky with the unveiling of my father's headstone. I can't believe it's almost been a year since he died. But I'm happy knowing he's at peace and he's with my mom somewhere. She always wanted to travel and never really got the chance, so I have a sneaking suspicion that's she's dragging him all over the world to see everything she missed. Hey, who knows. Could be true.
But on to Happiness Is because I think it's important to find happiness even in the sad times.
This month's happiness is starting a new book. I've just finished the last Adrenaline Highs novel and it was kind of a bitter sweet moment. So before I got too sad about it, I dove into my next High Stakes novel. I'm still batting around possible titles, so I can't share that with you, but I can tell you that you're going to get Brendan St. John's story. (That's Blake's twin in case you're keeping track.) I don't know if any of you remember that Blake works for one of my all time favorite characters… Seger Hughes. (I figure since I did a little series cross-over with Blake in Imminent Danger then I could cross Seger over into this High Stakes novel.) Seger plays an important part of this book and you can bet that where there's Seger, there's his wife Ashley. (Who knows… we might even see Roamer!)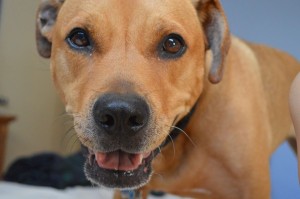 (BTW – this is my model for Roamer. He's so sweet. Love this dog.)
So, that's my happiness. What's yours this month?