You Heard It Here: Happiness Is
This month's happiness is stems from the horrific bombing in Boston on April 15th. My original thought was to go back to the old standby that I always try to keep at the forefront of my mind and that's gratitude for the health and happiness and of my family. But as I thought about it more, I realized one of the best ways to counteract such a terrible event is to make someone smile. So this month, happiness is: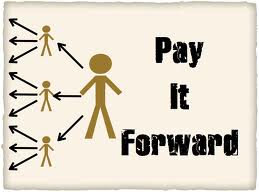 Did you know there was an actual "Pay it Forward" Day? It's only 5 days away. April 25! (click the link above to learn more!)
I put this challenge out on Facebook and twitter on Tuesday, but I'm going to repeat it here. I challenge anyone reading this to do something that will make someone else smile. Do it for the simple fact that your action will make someone else happy.
I'll share my pay it forward.
Last month I ran across a fellow Carina Press author's book. And by ran across, I mean I got to actually hold it in my hands and take it home with me. Those of you familiar with Carina Press know they are a digital imprint first, so finding a print version of a Carina book is kind of like hitting the mother lode! I'm 99% sure the book was printed for the RWA RITA contest (just like my 2012 releases – Danger Zone and Dangerously Close – were). So I was thrilled to email Sandy James and tell her that not only had I read and loved her book Rules of the Game, but I was going to mail it to her since those print versions are hard to come by.
I do believe I made Sandy smile. And it made me feel good the rest of the day. It will make me feel good when I go the post office to mail it and it will make me feel good when she opens her mailbox and sees her book.
So once again, I challenge you! Yes, I'm talking to you! Go out and make someone smile! Why wait until the 25th? Be brave and start now! I'll bet you won't be able to hold back your own grin. Pay it forward. You'll be glad you did.
Okay… tell me your pay it forward story! I can't wait to hear it.