You Heard It Here: Blog Tour Kick Off & Twinage!
I couldn't be happier that Imminent Danger is out in the world! This week is the blog tour kick off and I hope you'll join me at one or two stops. Pop in and say hi… I'd love to see some friendly faces! There are a few Living Dangerously giveaways happening as well so you can read all about Blake and Abbey's first meet in that crazy elevator from hell.
Before I give you the blog tour schedule, I wanted you to meet a pair of twins I've worked with. Now… keep in mind that my father was a twin and his mother was a twin, so the twin gene is big in our family. That may be the reason I have two (very separate) instances of twins in the Adrenaline Highs series. I never even thought about it when I wrote a set of twins into the High Stakes series and since Blake is a cross over character, he gave the Adrenaline Highs a second set of twinage. (Yes. I said it… twinage. The first set were introduced in Dangerous Race with Trace Bradshaw and her long lost sister Chelsea Harding.) Now that I've set that up, I want you to know that I wrote the twins before I met these twins. But OMG, when I met these young men it was fiction becomes reality. They are Blake St. John and his brother Brendan. Since a picture is worth… well you know. I'll just give you the picture: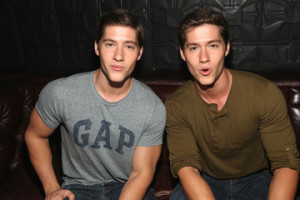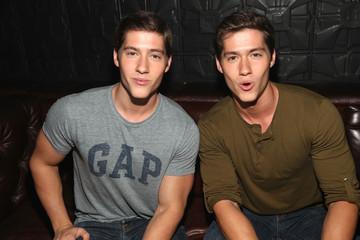 I've actually posted a picture of the twins before when I worked with them years ago. Truly, they ARE the St. John twins. I couldn't help but picture them when I wrote Imminent Danger. (I'd already written Against The Wall when I met them so I only had a picture in my head at that time.) You'll never meet a nicer set of talented young men. Musicians (they have a band called Nevruary), actors, models, they do it all. I look forward to the day I run into them again.
So with these faces in mind, you now have a very clear picture of Blake and his brother Brendan.
And now..
Here are the blog tour stops in order of appearance:
As far as this precursor to the tour, tell me, have you ever met a pair of twins that had you thinking indecent thoughts? Or, if you're like my mom, maybe you married a twin and had to deal with two for the price of one. Let me know!