Order:  Carina Press    Amazon    Barnes & Noble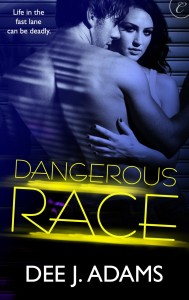 Dangerous Race…  2012 Golden Quill Contest finalist for Best First Book!
For the Dangerous Race countdown, click HERE
4 stars from The Book Vixen: I loved that the protagonist is a female race car driver. I love reading romance novels about race car drivers period but make the main character a female race car driver and that deserves props. I love a heroine who can hold her own, especially in a male-dominated industry.
4 stars from One Good Book Deserves Another:
"Taking high octane romance and suspense to a whole other level, Adams goes green flag with a prologue that left me shaken and a story that both thrilled and chilled. Adams hit so many high notes that I was completely and thoroughly entertained by the read. I can't wait for the next in her Adrenaline Highs series and can only wish it would be out sooner than 2012. Like now. Now would be good."
4 Ravens from Black Raven's Reviews:
"Dangerous Race is the first book that I have read by Dee J. Adams and it won't be the last. Here is an author who mixes racing with passion and suspense making it an awesome read. In addition, Dee J. Adams is a genius for mixing Mac with a woman like Tracey. These two can't get along, but when they embrace their desire, the passion these to experience is guaranteed to set track records. Dangerous Race by Dee J. Adams is the first compelling, passionate story in the Adrenaline Highs miniseries that already is starting off on the right track. Great job."
5 Hoots from Nocturne Romance Reads:
"This story is a great blend of touching romances, fast-paced action, and a who done it mystery! Sign me up for book 2, Danger Zone set to be released in February 2012!"
"A" from the Fiction Vixen blog:
"When I found out that Dangerous Race is Dee J. Adams' first book, I was even more impressed than when I finished it. I don't read much romantic suspense, but to me this was an example of the genre at its best: a compelling and (actually!) mysterious suspense subplot, combined with a terrific romance featuring wonderful characters and sizzling chemistry."
A- from Smitten With Reading: This book starts off with a serious bang. I was partway into the second chapter when I turned to my husband and told him about how stunned I was by how much action and emotion had already occurred in this story. It does slow down a bit after that, but honestly, not by much. This is a book about racing and I know that for me, my emotions and heart-rate were racing throughout most of the book. It's a great book and definitely one that I enjoyed.
Lynne Marshall gave it a 5 star review:
"Engrossing romantic adventure. Hunky hero. Kick butt heroine. I highly recommend this book!"
4.5 stars. Review to be posted on the Fiction Vixen website.
"Really, really fabulous read. Adams is a new author, so I'm all the more impressed that her first book is such a good one. The mystery / suspense subplot is interesting and keeps you on your toes, the main and secondary characters are all great and likable, there is sizzling chemistry in both the primary and secondary romances, and it's well-written."
4 stars.
"This is well-written, exciting and well-plotted. The double romance was a bonus and I like the setting in the car racing world and the unusual career for a heroine of racing driver. A very good romantic suspense debut."
Reviews from Amazon:
5 star review:
"Great book. I found it exceptionly interesting throughout. Fast exciting and the romance is wonderful.
"I can't wait for the the second book!"
5 star review:
"I started Dangerous Race on Monday night. Finished it on Tuesday night.
"It was a fast paced read, full of the rush of heat from the speedway, the heat from the bedroom of the secondary characters, the sensual build, and finally the heat from the main characters. The story, while it had a good and interesting plot, was for me driven more by the internal emotions of the characters. That says a lot for this debut author. To be able to weave the drama of the unfolding plot, and yet not deviate from the emotions of her characters, while providing humor and angst against such a dark backdrop, is a masterful feat.
"This author is definitely one to watch! I'm glad Dee J. Adams has a second book coming out in 2012, because she has made it to my "must read" list. My only regret is her work is not available in print form, because I would have bought several. I know many readers who do not read electronic books, and who would love this story. That said, it is a "quality" e-PUB and I think Carina Press did an awesome job with the editing and cover art work.
"Wishing you much success Ms. Adams."
5 star review:
"Typically I am not a big reader of romance novels, but I do enjoy good writing and storytelling in any genre. And this book really does have something for everybody. Racing cars, racing hearts, and suspense that will keep you up all night "turning" those digital pages! A fast-paced read with well-defined, strong characters, and a sub-plot that is as interesting as the main story. I really liked all the characters and felt as if I knew each one personally. It was like "reading" a movie. This is one that I will keep and re-read. And what is even more amazing is that this is the first work for this new author! Even if you are not familiar with romantic suspense (like me), I urge you to give Dangerous Race a try – you won't be disappointed!"
Reviews from Goodreads.com
"I loved this book! The characters completely hooked me. They are so real and likable and conflicted that I was rooting for them from the second I met them. My favorite part of any book is the romance and in Dangerous Race, there are two couples who capture your heart with their wonderful dialogue, playful situations, and as the suspense grows, their loyalties and fears. I couldn't turn the pages fast enough, but so didn't want to reach the finish line. I highly recommend this book and can't wait to read Ms. Adams next one!"
Order:
Carina Press Amazon Barnes & Noble
Click here to see what people are saying about Dangerous Race.